This is an archived article and the information in the article may be outdated. Please look at the time stamp on the story to see when it was last updated.
Heavy rain and hail brought traffic to a stop for a while on the 14 Freeway in Acton Thursday as thunderstorms made their way across Southern California.
Flash flood warnings were issued for parts of north central Los Angeles County, Riverside and San Bernardino counties, where thunderstorms could bring as much as 1 to 2 inches of rainfall per hour, according to the National Weather Service.
The warnings were extended until 10 p.m. as forecasters predicted the possibility of heavy rain, ground lightning, small hail and gusty winds.
Video from a heavy downpour in Acton showed traffic stopped on the 14 Freeway as rain and hail fell Thursday afternoon. The storm also caused rivers of mud to cover nearby streets.
Multiple homes in the 29 Palms area were also flooded, according to the San Bernardino County Fire Department. The homes were located in the 74000 block of Diamond Bar road, the Fire Department tweeted.
Earlier in the day, the weather service warned that the increased monsoonal moisture could produce thunderstorms anywhere from the coastal waters to the deserts Thursday morning through Thursday evening.
These thunderstorms are likely to produce heavy rain and could result in flash flooding across the local mountains, deserts and the recent burn areas.
In the Inland Empire, small hail and gusty, erratic winds are also a possibility, according to forecasters.
Flash flood watches were issued earlier Thursday for the Antelope Valley, Cuyama Valley, Apple Valley, Lucerne Valley, Coachella Valley, San Bernardino and Riverside county valleys, the Inland Empire, the mountains of Ventura, San Bernardino, Riverside, San Diego, Santa Barbara and Los Angeles counties — excluding the Santa Monicas — the San Diego County deserts and the San Gorgonio pass near Banning, according to the weather service.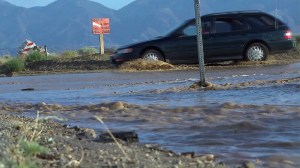 The watches were also expanded to include the Colby burn area in the foothills above the San Gabriel Valley.
Heavy downpours Wednesday made driving difficult for many people in the Lake Los Angeles area. Video showed vehicles splashing through pools of water and flooded intersections near East Palmdale Boulevard and 150th Street East (map).
By Friday, the majority of moisture will linger over the mountains and deserts bringing a continued chance of thunderstorms to those regions through the weekend.
More video: