This is an archived article and the information in the article may be outdated. Please look at the time stamp on the story to see when it was last updated.
January in Southern California is typically marked by rain, chilly temperatures and snow-capped mountains.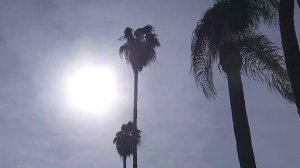 But this month is ending on a decidedly hot and dry note, with umbrellas and sweaters giving way to bathing suits and air conditioning.
The region is in the midst of a heat wave that on Monday brought record high temperatures for the day in places such as Long Beach (91 degrees), UCLA (89), Santa Ana (88), Oxnard (87) and Newport Beach (85). At 93 degrees, Lake Forest was the hottest spot in the United States. More records could fall Tuesday, and there is no rain in the foreseeable future.
It's a repeat of the unusually hot, dry and windy weather that helped fuel huge brush fires in December. Since the end of last February, downtown Los Angeles has seen just 2.26 inches of rain — an anemic amount over an 11-month period. Los Angeles has seen just 28% of its average precipitation since October — with most of it coming from the rainstorm that caused the deadly mudslides in Santa Barbara County.
Read the full story on LATimes.com.