This is an archived article and the information in the article may be outdated. Please look at the time stamp on the story to see when it was last updated.
One of a series of expected storms continued to make its way across Southern California on Tuesday, causing flooding and mudflows in some areas.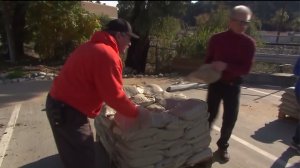 A flash-flood warning was issued for midday Tuesday for the Solimar Fire burn area in Ventura County and for the Colby, Williams and Cabin fire areas in Los Angeles County. A flash-flood watch was in effect for all burn areas through late Wednesday.
The National Weather Service also warned about possible flooding of urban streams across the region.
Videos and photos posted to social media showed minor flooding in areas across Southern California.
Streets near Hollenbeck Park on Los Angeles' Eastside appeared inundated, and trashcans were swept down a street in the Highland Park area. Mudflows poured through roadways in Glendora.
Although the weather service initially predicted the "strong but fast-moving" storm would arrive in the region late Monday night, less than a quarter-inch of rain had been measured at stations throughout Los Angeles and Ventura counties by early Tuesday morning.
But by 10:30 a.m. the downpour had begun in earnest and significantly more rain had fallen.
Los Angeles International Airport set a new record for daily rainfall, with 1.42 inches.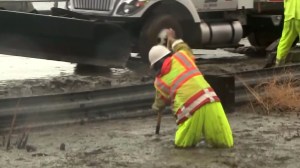 The storm -- caused by an "atmospheric river of moisture" -- was forecast to last through Tuesday afternoon, bringing with it the "potential for brief higher-intensity rainfall rates," according to the Weather Service.
Amid that possibility, preparations were in full swing in the Glendora area, site of the 2014 Colby Fire, which charred nearly 2,000 acres and left foothill areas denuded of vegetation. That in turn made the terrain susceptible to catastrophic mudflows triggered by rainfall.
At the Glendora Public Works Department this week, officials continued to distribute some 25,000 sandbags that were available for free to residents.
"I didn't do this before," homeowner Don Weissinger at the facility Monday, referring to sandbagging his property. "I've done it with a sump-pump-type thing and created some other barriers before. But with this kind of rain, I'm expecting I'm going to need it all season. I figure it's worth it."
The Colby Fire burn area includes parts of the San Gabriel Mountain foothills above Azusa and Glendora. Officials in the latter city on Sunday issued a "yellow alert," which remained in place on Tuesday.
The status change prompted parking restrictions, and the removal of roadway obstructions such as trash bins and parked vehicles, but no evacuations.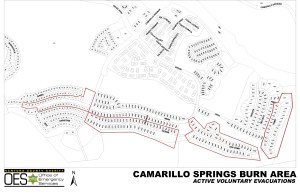 Meanwhile, in Camarillo Springs, voluntary evacuations were temporarily in effect for scores of homes in the Springs Fire burn area, according to the Ventura County's emergency information website. The order was lifted at noon.
The 2013 blaze there consumed more than 24,000 acres after being sparked by a moving vehicle on the 101 Freeway in Camarillo. In December 2014, a storm led to a massive mudslide that significantly damaged at least eight homes in the area.
A Red Cross shelter was activated at 6 a.m. Tuesday in Camarillo, at the Leisure Village Recreation Building, 1200 Leisure Village Drive (map), the county website stated.
The anticipated rainfall was the second  of four initial storms that, according to satellite images Monday, were brewing in the Pacific Ocean as part of the El Niño weather pattern and headed toward California, the Los Angeles Times reported.
"El Niño storms: it's steady, not spectacular. But it's relentless," Bill Patzert, a climatologist at NASA's Jet Propulsion Laboratory in La Cañada Flintridge, told the newspaper. "It's not 10 inches in 24 hours and nothing afterward. It's a 1-inch storm, a 2-inch storm, followed by a 1-inch storm, followed by a 2-inch storm."
This week's storms were the first associated with El Niño that were headed toward California.
At a news conference held Tuesday morning at the Emergency Operations Center in Los Angeles, which was activated the previous day, city leaders discussed official preparations that have been made ahead of the expected deluges.
Mayor Eric Garcetti noted that the city's winter shelters were filled to between 70-to-80 percent capacity, the Department of Public Works had cleared out some 40,000 storm drains in an effort to prevent flooding, and trash collection continued throughout the city.
He admonished wave enthusiasts to stay away from area beaches, some of which were likely to see high surf during the storms.
"The temptation to surf 15-foot waves, I know, may be pretty intense for some surfers but we do not think that it is safe out there," Garcetti said.
The mayor also encouraged residents to visit ElNinoLA.com for tips and information about available municipal resources, and to "remain calm" in the event of heavy rains.
He referred to "the old joke": In "Los Angeles, it rains a quarter of an inch and suddenly the news stops and everybody has 24-hour coverage of any precipitation," he said. "But this will be serious."
KTLA's Melissa Pamer contributed to this article.
Expected Rainfall thru Friday for SW Calif. will vary between 2"-6" inches. #LArain #ElNino #cawx pic.twitter.com/LJWaoZ21Xo

— NWS Los Angeles (@NWSLosAngeles) January 5, 2016