This is an archived article and the information in the article may be outdated. Please look at the time stamp on the story to see when it was last updated.
Amid warnings about flash-floods and severe thunderstorms, mudslides inundated roads in the Lake Hughes and Elizabeth Lake area Thursday, and some locations appeared blanketed in hail.
Los Angeles County firefighters responded to multiple mudslide and flooding-related rescues in the northern part of the county.
Mudslides also prompted the closure of all lanes of the 5 Freeway, blocking access to the Grapevine connecting metropolitan Los Angeles with the Central Valley.
As of 9 p.m., the CHP reported that the 5 Freeway would remain closed for at least 24 hours at Parker Road for those traveling northbound and at Grapevine Road on the southbound side.
A severe thunderstorm warning was issued for north-central Los Angeles County through 5:30 p.m., according to the bulletin from the National Weather Service. A flash-flood warning was issued through 6:45 p.m. for northwest L.A. County.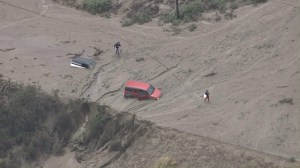 The storm was capable of producing golf ball-sized hail and damaging winds in excess of 60 mph, the weather service said.
"This is a dangerous storm," the weather service's Oxnard office tweeted.
Rainfall of 4 to 6 inches per hour was reported in Leona Valley and near Fairmont Dam, the service said.
Flooding was reporting along Lake Hughes Road near Elizabeth Lake, according to the California Highway Patrol's online incident log.
The Los Angeles County Fire Department was responding to reports that employees were trapped inside a school district building in the area. Firefighters were dispatched at 3:07 p.m., a department spokesperson said.
A water rescue was also taking place in the 41600 block of Lake Hughes Road, with crews searching for drivers possibly stranded due to mud flow.
Video from the scene showed multiple vehicles stuck in several feet of mud. It wasn't immediately clear if anyone was injured.
The call came out at 3:02, county fire Inspector David Dantic said. A helicopter was overhead.
"The conditions of the roads are very tough to get through, so we are having our helicopters overhead trying to get a better vantage point," Dantic said. "There were reports that there are people in the truck there. … We're getting reports there might be other people stuck in their cars."
Locations impacted by the severe thunderstorm warning include Elizabeth Lake, Lake Hughes, Gorman, Highway 138 between Quail Lake and Lancaster, Interstate 5 over the Grapevine and Pyramid Lake.
A flash-flood warning was in effect until 5 p.m. for northwestern Ventura County, where debris flows were reported across State Route 33. Large hail of up to 1 inch was also reported.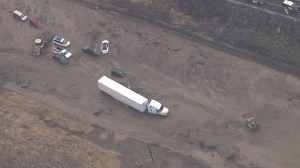 Other road closure as of 10 p.m. included:
Mojave
Eastbound Highway 58: Towerline Road to Cameron Road
Westbound Highway 58: 14 Freeway to Highway 202
Lake Elizabeth / Lake Hughes
Munz Ranch Road: Elizabeth Lake Road to Lancaster Road
Lancaster Road: Munz Ranch Road to 110th St West
Lake Hughes Road: Dry Gulch Road to Elizabeth Lake Road
Leona Valley
Godde Hill Road: Closed at 60th St West / Avenue N
Bouquet Canyon Road: Closed at Vasquez Canyon Road
 
Green Valley
Spunky Canyon Road: ALL
A complete list of road closures was at the county Department of Public Works website.
This is a dangerous storm. Severe thunderstorm warning until 645 pm PDT. Hail up 1" likely & winds to 60 mph. #CAwx pic.twitter.com/tllDNUkrj2

— NWS Los Angeles (@NWSLosAngeles) October 15, 2015
Severe T-storm near Lake Hughes likely producing golf ball sized hail and winds in excess of 60 mph! #LAweather pic.twitter.com/6gJTnSBqrx

— NWS Los Angeles (@NWSLosAngeles) October 15, 2015
#I5Mudslide Avoid Tejon Pass/Grapevine. Mud & debris blocking NB/SB. Caltrans towing, clearing NB lane for emerg veh pic.twitter.com/ek9onQUhuH

— Caltrans District 7 (@CaltransDist7) October 16, 2015
https://instagram.com/p/84JpwSMtBC/
More video: