This is an archived article and the information in the article may be outdated. Please look at the time stamp on the story to see when it was last updated.
Showers are in the forecast Sunday and through Monday, according to the National Weather Service.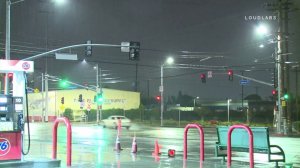 Clear skies and warmer conditions are expected for the rest of the week.
Rain was reported in Los Angeles and Ventura counties Sunday morning.
The "weak weather system" is expected to subside by the afternoon and move further south, but rain and snow are expected to continue at local mountains, according to the weather service.
The storm could bring sprinkles over the Academy Awards Sunday afternoon and evening in Hollywood, the Los Angeles Times reported.
According to the newspaper, the last time it rained at the Oscars was in 2015.
A second weaker system will arrive over the Southland after midnight and will increase the chance of showers, the agency reported.
The showers are expected to end late Monday afternoon, when the only rain activity will be across northern slopes of local mountains.
San Gabriel Valley foothills may receive up to three quarters of an inch of rain, but there are no concerns for recent burn areas, according to the weather service.
Snow levels will range from 3,500 to 4,500 feet during the current storm system.
Along with the warmer conditions later in the week, gusty winds are also expected.