This is an archived article and the information in the article may be outdated. Please look at the time stamp on the story to see when it was last updated.
Southern California is seeing one of its driest starts to the water year in decades, the National Weather Service said Wednesday.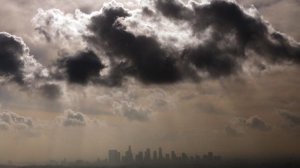 Since the start of the water year on Oct. 1 through Dec. 31, downtown Los Angeles has received just 0.12 inches of rain. That is tied with 1962-63 for the fourth driest start to a water year since record keeping began in 1877, the weather service said.
"The start of the storm season has been exceptionally dry," said Ryan Kittell, forecaster with the National Weather Service in Oxnard. "It's one of the driest in history."
This year's rainfall total is 3.91 inches below the normal 4.03 inches for the period in downtown L.A., making it just 3% of the typical rainfall. Forecasters said the driest first three months of a water year occurred during the 1903-04 season and the 1929-30 season, when just traces of rain were recorded.
Read the full story on LATimes.com.