This is an archived article and the information in the article may be outdated. Please look at the time stamp on the story to see when it was last updated.
A storm moving down the West Coast into Southern California on Friday was expected to bring cooler temperatures, gusty winds, and rain in the valleys and snow at higher elevations, prompting authorities to warn drivers about potential hazards on mountain roadways.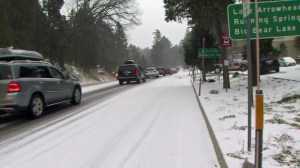 The heaviest precipitation was expected Saturday evening through Sunday afternoon, according to the National Weather Service, which said there was a slight chance of thunderstorms beginning Saturday afternoon.
Snow levels could drop as low as 3,500 feet in area mountains. Caltrans and the California Highway Patrol warned drivers that those without chains would be turned away from mountain roads.
Temperatures were expected to be 15 to 20 degrees below normal.
Mountain roads, passes and freeways at elevation — including the 5, 10, 14, and 15 freeways — could be affected by potentially hazardous conditions, including blowing snow and ice. Caltrans pointed to its list of winter driving tips.
Ski resorts in Big Bear were expecting up to a foot of snow at Bear Mountain and Snow Summit, as was Mammoth Mountain, farther north in the Eastern Sierra. A spokesman for Mammoth Mountain reminded drivers coming to the resort from Southern California to be careful on roads that could see snow accumulation at higher elevations.
Authorities in San Bernardino County warned drivers to be prepared with a travel kit including extra food, water and warm clothing. They also asked that those who come up to the snow to play be prepared with trash bags and not leave litter in mountain communities.
"We welcome visitors to enjoy the snow in our wonderful mountain communities, but they shouldn't spoil their visit by not being prepared," said San Bernardino County Supervisor Janice Rutherford. "Bring and use chains; carry extra clothes, food and water; and please respect our forest and those who call it home by picking up your trash and not trespassing on private property."
A wind advisory was in effect from 6 p.m. Friday to 4 p.m. Saturday for the mountains of San Bernardino County, Apple and Lucerne valleys and the San Gorgonio Pass near Banning. Gusts could reach 55 mph.
A winter storm watch was in effect for the mountains of Los Angeles and Ventura counties for Saturday afternoon to Monday afternoon.
Recent wildfire burn areas were also warned that heavy rainfall could trigger debris flow. The city of Glendora, below the Colby Fire burn area, raised its alert level to "yellow."
Potential for Wintry Driving Conditions across I-5 Corridor this weekend. Winter Weather Watch issued. #cawx pic.twitter.com/1tRmUaxmkX

— NWS Los Angeles (@NWSLosAngeles) February 26, 2015
More video: