This is an archived article and the information in the article may be outdated. Please look at the time stamp on the story to see when it was last updated.
As cleanup efforts were underway Monday, emergency personnel were surveying the damage left after thunderstorms in and around San Bernardino County wreaked havoc in the region the previous day, including leaving one man dead.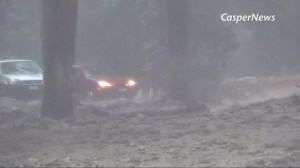 Authorities were also searching Monday afternoon for one person who may be trapped in a flooded area of Mount Baldy after two hikers heard a person crying out in distress.
The storm hit Southern California on Sunday afternoon, bringing torrential rains to the mountain and desert areas, while also triggering mudslides and flash floods stranded thousands of people.
A 48-year-old man was killed on Mount Baldy when his vehicle was swept off a roadway and into a creek, according to San Bernardino County Fire Department spokesman Chris Prater.
He was identified by Lt. Fred Corral with the Los Angeles County coroner's office as Joo Hwan Lee of El Segundo.
Family members were gathering at his apartment but were too distraught to speak. One person at the home said Lee had been hiking before his death.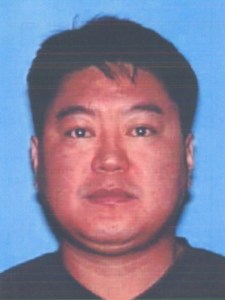 Meanwhile, on Monday afternoon, firefighters were searching the Bear Flats area of Mount Baldy for one person reported "over the side," a Los Angeles County Fire Department spokesman tweeted.
Fire Department officials on scene said a couple hiking the Bear Flats area heard someone crying out, "Help me, help me." The cries came from an area that saw flooding, officials said.
Firefighters were called to the scene, and an L.A. County Sheriff's Department helicopter could be seen searching overhead, aerial video showed at noon. A search and rescue team and K-9 officer was also responding.
Searchers were unable to find anyone in distress.
Mount Baldy village is on the border of Los Angeles and San Bernardino counties, prompting different jurisdictions to respond to differing incidents.
On the north side of Devil's Backbone, a 7-mile hiking trail near the village, two hikers and a search-and-rescue volunteer were rescued by a sheriff's helicopter team shortly after 12:30 a.m., according to  a news release.
That incident had begun about 6:05 p.m., when Ravit Patna, 27, and his sister, Mansa Patna, 22, used a cellphone to call the San Bernardino County Sheriff's Department to report that they were lost after being separated from their parents and encountering a thunderstorm, officials said.
The 50-year-old volunteer fell and was injured during her attempt to reach the two hikers. All three were later hoisted to safety by the helicopter crew, which used nigh-vision equipment during the rescue operation, the Sheriff's Department said.
On Sunday, one person had to be rescued from rising floodwaters that effectively shut down Forest Falls, a small mountain community located in the San Bernardino National Forest about 15 miles east of Redlands. The unidentified person was not injured and was taken to a nearby fire station, the Fire Department tweeted.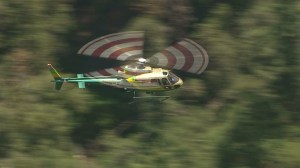 Forest Falls residents were instructed by authorities to "shelter in place" until the waters receded, but no one was reported injured.
By  late morning Monday, crews opened the lone roadway into the mountain community, creating a path out for those trapped overnight.
Crews operating heavy machinery were "eventually able clear several of the walls of mud enough for rescuers to fan out and canvass the town and begin accounting for any missing persons," the Fire Department stated in a news release.
About 100 people not from the town were stranded when Valley of the Falls Drive was blocked by a mudslide and debris, according to the San Bernardino County Fire Department. They sheltered at a community center, department spokesman Ryan Beckers said.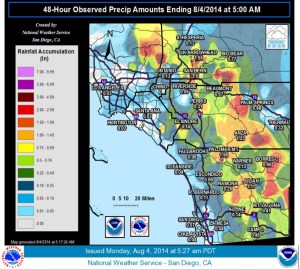 Hundreds of campers had also been reported to have been trapped at a church camp after heavy rains prompted road closures on Highway 38 and Valley of the Falls Drive.
However, a news release from Forest Home Christian Camps and Conference Centers, which operates five camp centers in the area, stated in a news release late Sunday that those reports were erroneous.
"All guests at Forest Home are safe and secure. The high school and junior high campers are enjoying the scheduled activities without interruption," officials said in the release.
The extent of the damage to the area was not immediately known, Beckers said early Monday.
"Even though the rains have stopped, we still haven't had enough daylight to go in and search the entire town," Beckers said. "So today's mission will be to see if anybody is still yet unaccounted for … and then go into the residential streets and assess how many homes exactly are damaged, to what extent and start the cleanup."
As in Forest Falls, no one was reported injured in Highland, a mountain community that was also hit by severe flooding from the storm. Multiple homes were flooded.
"Out of nowhere, it just started flooding," said resident Melinda Coronado, who saw most of her belonging destroyed. "Water was everywhere."
Her son was unable to go to the first day of school because all of his clothes were ruined, she said.
Several residents were displaced in Highland, and the city was in the process of surveying the area for cleanup of dirt and debris, according to a news release from the San Bernardino Unit of Cal Fire. Most of the water subsided after the storms, the release stated.
Significant flooding was also reported along Oak Glen Road in Oak Glen, the foothill community known for apple growing. Some 1,500 residents were temporarily unable to leave the area, authorities said.
The road was briefly shut down before being reopened Sunday evening, Cal Fire spokeswoman Elizabeth Brown said.
Some roads remained closed or partially shut down in San Bernardino County on Monday morning as a result of flooding from the weekend's monsoons, according to Caltrans.
The closures included: State Route 62 from Mary Ann Lane to Vidal Junction; Route 95 from Blythe to Vidal Junction; and State Route 177 from post mile 0 to 27. Additionally, one eastbound lane was closed on Interstate 10 at Eagle Mountain.
The closures would be in effect for an unknown duration of time, Caltrans stated in a news release.
KTLA's Tracy Bloom, John A. Moreno, Melissa Pamer, Alberto Mendez and Scott Williams contributed to this article.
More Video: