This is an archived article and the information in the article may be outdated. Please look at the time stamp on the story to see when it was last updated.
Utility crews Wednesday were working to restore power to thousands of Southern Californians as forecasters predicted slight relief from a heat wave that has gripped the region in recent days.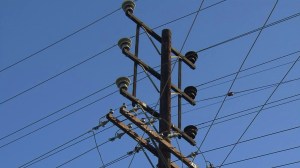 Among those without power as of 5:30 p.m. were 2,810 Southern California Edison customers in five counties. The communities with the most customers affected were Alhambra, San Bernardino and Costa Mesa, according to data on the SCE Outage Center website.
The Los Angeles Department of Water Power had reported that 497 customers had no electricity in the San Fernando Valley neighborhood of Winnetka, along with 467 in Encino and 284 in Los Feliz.
By noon Wednesday, the total figure was down to about 600, DWP said in a tweet. However, by 6 p.m. LADWP spokeswoman Kim Hughes said that roughly 1,800 customers were without power.
Power should be restored to all home by the end of the day, she added.
Major outages were first reported Tuesday, when the consumption of energy in the DWP's service area reached an all-time high for the second day in a row, according to a news release from the the utility.
Peak demand reached 6,196 megawatts on Monday, followed by 6,396 megawatts on Tuesday, DWP said on Twitter.
By about 3 p.m. Wednesday, LADWP customers' usage reached 6,000 megawatts. "Not a new record, but still extremely high," the utility wrote on Twitter.
Wednesday's outages occurred as scorching temperatures were expected to taper off, following days of record-setting highs in some areas.
Students in Pasadena were being let out at noon after the cooling system malfunctioned at Eliot Middle School, Pasadena Unified School District announced.
Meanwhile, utilities urged customers to conserve energy and avoid using major appliances during peak hours.
SoCal Edison declared Wednesday a "Save Power Day," part of an ongoing program in which participating customers can earn up to $100 in bill credits per year by reducing usage between 2 p.m. and 6 p.m. Registration is available online.
Daytime highs were forecast to reach 94 degrees in downtown Los Angeles, one day after tying a record of 103 degrees that was set in 1909, according to the National Weather Service. The average high for the area is 83 degrees.
Meanwhile, humidity was expected to increase as moisture generated by Tropical Storm Odile moved into the region, the Weather Service said.
Although no heat advisories were in effect for Wednesday, cooling stations remained opened throughout the Southland. The county of Los Angeles and SCE published lists of locations and hours.
The L.A. Emergency Management Department reminded the public that some city facilities — including senior citizen centers, parks and recreation centers, and libraries — may also be used as cooling centers. A list of such locations was available on the department's website.
 KTLA's Anthony Kurzweil, Melissa Pamer and Mark Kriski contributed to this report.