This is an archived article and the information in the article may be outdated. Please look at the time stamp on the story to see when it was last updated.
A cold storm coming into Southern California from Canada brought wintry conditions to the region Tuesday and was expected to chill the area through New Year's Day, prompting a warning from public health officials.
Starting in the afternoon hours, Southern California was hit with heavy rain, gusty winds, freezing cold temperatures and even snow beginning.
The winter storm created a traffic mess on some local freeways and prompted the closure of multiple highways in mountain areas.
Highway 18 was closed from the Arctic Circle to the Big Bear Dam, Caltrans announced shortly after 2:30 p.m., prompting Bear Mountain to urge skiers and snowboarders to find alternate routes.
State Route 38 was also shut down in the Big Bear area Tuesday night after several vehicles got stuck on the road. The highway was shut down from Forest Falls to Big Bear Dam Road, a tweet from Caltrans District 8 stated.
At one point, traffic on the 38 was backed up for about a 13-mile stretch, according to Caltrans, which also warned of down power lines on the road.
Later in the evening, the Caltrans district announced on Twitter that all southbound lanes of the 15 Freeway had been shut down in Hesperia as a result of the snow.
It was not immediately clear when the roadways would be reopened.
Along Highway 138 near Crestline, more than 130 people became trapped in snow on the roadway, prompting a rescue by the San Bernardino County Fire Department.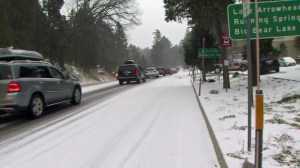 The National Weather Service earlier warned that mountain roadways could see snow and ice, including the 5 Freeway through the Grapevine. Chains were required to drive through mountain roads in San Bernardino County, Caltrans said.
The wintry conditions prompted the Los Angeles County Department of Public Health to issue a cold weather alert for the Antelope Valley, Santa Clarita Valley, San Gabriel Valley, East San Gabriel Valley, San Fernando Valley and Mount Wilson areas from Tuesday through Thursday.
"Children, the elderly, and people with disabilities or special medical needs are especially vulnerable during such cold snaps. Extra precaution should be taken to ensure they don't get too cold when they are outside," said county Interim Health Officer Dr. Jeffrey Gunzenhauser.
He pointed to the county's winter shelter program and advised people not to used stoves, barbecues or ovens to heat homes due to the risk of carbon monoxide poisoning.
The weather service stated that animals should be kept indoors and plants should be brought inside or covered.
A winter storm warning was in effect from 4 p.m. Tuesday through 4 p.m. Wednesday for inland mountain areas over 2,000 feet in elevation.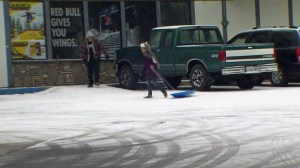 Snow levels were forecast to fall rapidly to as low as 1,500 feet with showers and snowfall, mainly in the mountains and the Antelope Valley. Two to 6 inches could fall across the eastern San Gabriel Mountains and up to 12 inches along higher inland peaks.
Shortly after 6:30 p.m., the weather service tweeted that it had received reports that snow was down to 1,700 feet near La Crescenta.
Chill winds were predicted to rise Tuesday night and continue into Wednesday. Mountain areas could see gusts of up to 60 mph, with gusts of up to 50 mph in coastal and valley areas.
Wind advisories were in effect for much of Los Angeles, Orange and Ventura counties from Tuesday into Wednesday.
Gusty winds and cold temperatures were expected in most of the LA metro area Tuesday night, federal forecasters said.
Residents were warned to watch for blowing debris and downed trees that could result from wind gusts.
"Dangerous" wind chill below 0 degrees will affect the mountains, which could also see low visibility due to blinding snow, the weather service stated.
Winds were forecast to diminish New Year's Eve, but even colder temperatures were set to follow. Subfreezing temperatures could be widespread in Southern California, the weather service said.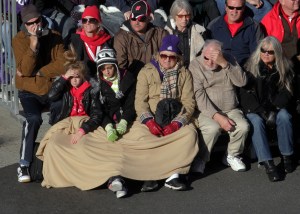 New Year's Eve was forecast to be the coldest night of the season thus far, the National Weather Service said, with a freeze watch issued for many area valleys, including the San Gabriel Valley.
Rose Parade watchers who are camping out overnight in Pasadena, or those arriving early Jan. 1, should prepare for temperatures that could break the 1952 record low of 32 degrees, the weather service advised.
"Those planning to camp out before the Rose Parade are urged to dress in warm layers including gloves and hats, and drink warm fluids," federal forecasters said.
Snow expected at lower elevations, fwy conditions check http://t.co/xbyTKrAVsg
Consider alt routes. #LASnow @dpwCARE pic.twitter.com/zOWCaXPfuB

— Caltrans District 7 (@CaltransDist7) December 30, 2014
Wind chill forecast thru 8pm this evening. Will feel like zero in the mountains! #lacold #cawx pic.twitter.com/XQ6hIFg2FA

— NWS Los Angeles (@NWSLosAngeles) December 30, 2014
More Video: