This is an archived article and the information in the article may be outdated. Please look at the time stamp on the story to see when it was last updated.
Thousands of flights across the United States have been scrapped or delayed as a winter storm sweeps across the East Coast.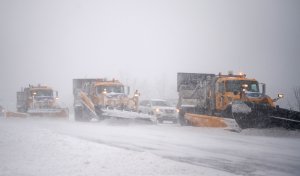 More than 3,100 flights were wiped on Thursday and more than 800 were delayed at 10 a.m. ET, according to FlightAware.
East Coast travel hubs were hit hardest.
JFK International Airport said Thursday morning that flights there have been "temporarily suspended" because of strong winds and "whiteout conditions." It urged travelers to contact their airline carriers for updates.
Due to strong winds and whiteout conditions, flights at JFK have been temporarily suspended. Travelers are urged to contact their airline carriers for updates on resumption of service

— Kennedy Airport (@JFKairport) January 4, 2018
New York's La Guardia Airport said on Twitter that "almost all" flights there were canceled because of the weather. And Newark Liberty said late Wednesday that more than 70% of flights there had been canceled.
American Airlines suspended departures from Boston on Thursday because of strong winds and heavy snow.
Latest updates: Massive winter storm set to slam Northeast
American, Delta, Southwest and United all warned passengers to expect long delays and cancellations at dozens of airports across the country.
Thirteen states from South Carolina to Maine are under a winter storm warning and the governors of Georgia, North Carolina, Virginia, New Jersey and New York declared states of emergency. Forecasters say the Northeast states can expect hurricane-force winter wind gusts and blinding snow.
Flights at LaGuardia Airport have been temporarily suspended due to high winds and heavy snow that have significantly reduced visibility. Fliers should contact their airlines for information about resumption of flights.

— LaGuardia Airport (@LGAairport) January 4, 2018
Related: Disaster costs jumped over 60% this year to $306 billion
New York's emergency declaration covers the entire downstate region, including New York City and Long Island. The major travel hub is expected to receive between 6 and 10 inches of snow, Cuomo said.
"The situation has continued to deteriorate," Governor Andrew Cuomo told reporters at a news conference Thursday.
While Cuomo said authorities don't expect to close any bridges right now, he called the situation "ugly" and "dangerous," and urged people to stay indoors.
Connecticut Governor Dan Malloy said on Twitter that hundreds of state and private plow trucks are working to clear the roads. The forecast there calls for at least 6 inches of snow.b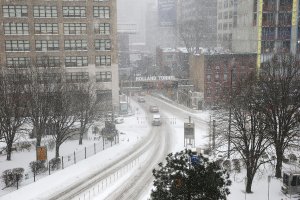 The travel disruptions reached beyond flights and airports. Amtrak reduced service between New York and Boston, and also Springfield, Mass., and New Haven, Conn., and canceled trains between Washington, D.C., and Newport News and Norfolk, Virginia.
Greyhound buses running between Montreal, Boston, New York City, Albany, New York, Washington, D.C., Philadelphia, Atlantic City, New Jersey, and the Maine cities of Bangor and Portland, were also canceled. The bus station in Savannah, Georgia, was shut down.
Motorists are also urged to leave their cars at home.
"Driving conditions during the storm are expected to be hazardous and motorists are urged to stay off the roads until the storm passes," said Virginia Transportation Secretary Aubrey Layne.